The campsites close to town fill for the whole season of weekends pretty early in the year, but about six weeks ago, I was able to reserve a site at Camp Creek Campground for this weekend.  It was the best camping trip ever, but then again, every trip is the best one.
The Mt.Hood forest has a very thick canopy, high overhead on all of the very large Douglas firs.  Camp Creek is at about 2000′ elevation, so it was cool at night and during the day we had a grey mist most of the time, with a few glimpses of blue and sunshine.  Our campsite was next to a crystal clear creek, with ice cold snow melt rushing over the rocks.  Tate noticed as soon as we drove up, that this forest is much denser than the ones he's used to in the south.  The scenery there was great; bright green, moss covered tree limbs, brown pine needles covering the trails and a little whitewater in the creek.  At night, sleeping was easy with the steady sound of running water.  Click here for more pictures.
I got to spend a few quiet moments sitting next to the stream, watching the water rush by.  Just sitting there watching the water made time really slow down.  Luke even mentioned how time moved more slowly out here.  When we are busy with the task of living every day, too many days pass so quickly, unused, under-appreciated.  It's nice to slow down out here.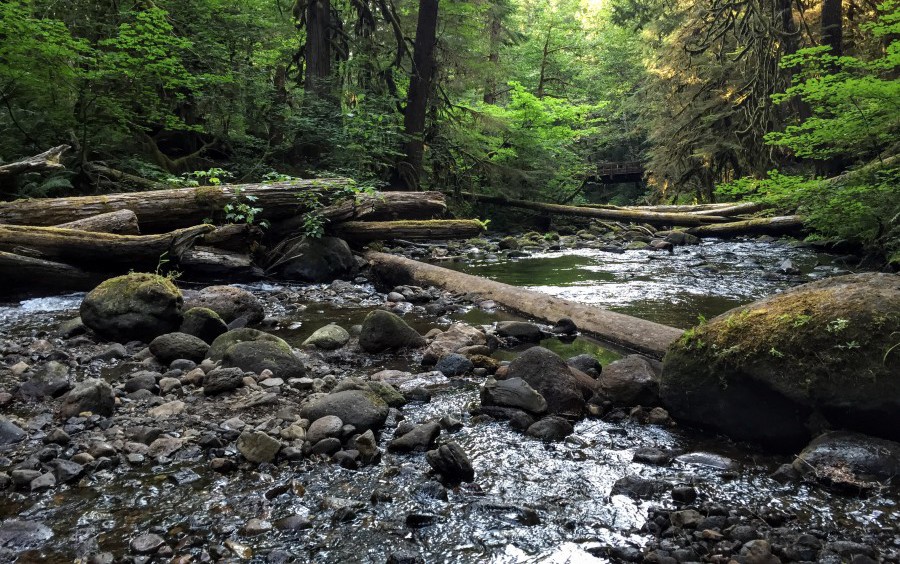 The campground is about an hour east of Portland, down Hwy 26 toward Mt. Hood.  A short drive into a different world.  This campsite, like many other recreational spots around here, was built by the Works Progress Administration in the 1930's and has lots of old artifacts still around, like some left over stone fireplaces in a couple of campsites from long-gone cabins.
There was no electricity, no WIFI, no cell service, and our water came from two well-fed manual pumps.
One of the new additions to this year's camping is a Stanton Propane Camp Stove.  It made cooking much more enjoyable without having to regulate a campfire for every meal.  This stove was cheaper than the Coleman version, had more BTUs and has an electric start.  It was plenty big.  Big enough to accommodate my 10 quart cast iron pot.
Rylee enjoyed cooking on the stove, but one of her favorite camp meals was cinnamon rolls on a stick.  We took canned cinnamon rolls and wrapped them around a stick to roast them over the fire, then add the icing.  It was quite good!  And easy to make.
And, of course, we had s'mores and we did s'moreos too.  Roasted marshmallows on mint Oreo cookies.  Everyone enjoyed the s'moreos.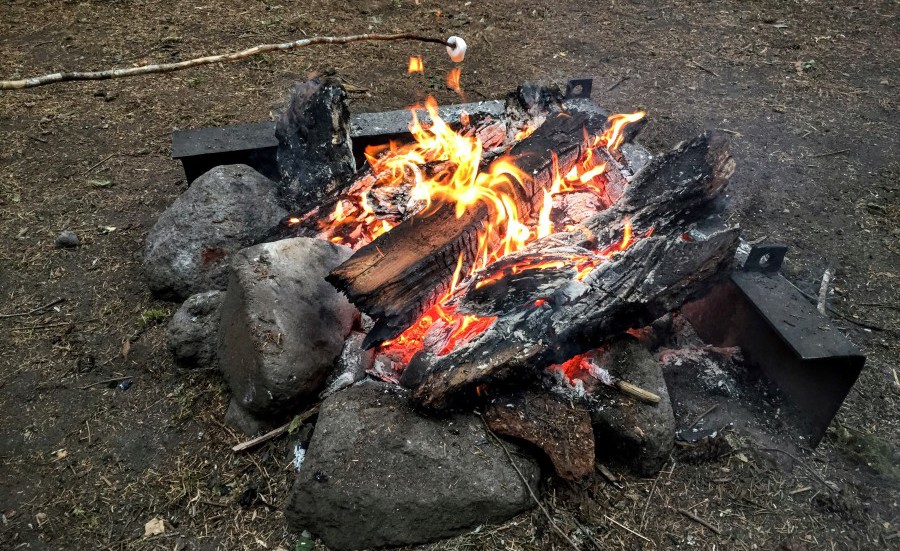 Everyone had a great time, and Rylee already asked me to plan the next trip.  She's ready to go again!  But, I am too…