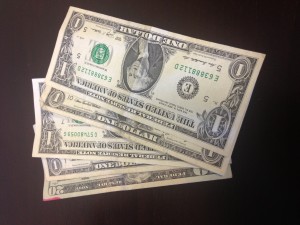 10/1/2013 – We're trying to live on a budget. Surprisingly, we've never done it before. Money just sort of worked itself out without a real spending plan. We saved a portion and spent the rest.
The budget amount is a shot in the dark, but I figure we can make any number work, so we're starting by spending half of what we spent before.
Another thing we're going to try is that all five of us will have a $50/month allowance so we each have some money to spend without discussing or negotiating with each other. Then we'll figure out how to spend the rest of the weekly budget together. We'll see what our family priorities really are.  We held on to a few expensive luxuries for now, like a house keeper and a premium internet plan that can handle Luke's 24/7 YouTube consumption.
It's only been 8 days,  and I'm already learning a lot about my spending habits.  It's forcing me to take a closer look at how easily I let money go.
We ran out of weekly budget money by the third day and we ran out of food, we thought. But we realized that when we get hungry enough, all the fridge, freezer and pantry food that's still lingering because it was not our first choice, all of a sudden looks real tasty. We came up with a couple of new meal ideas and cleaned out the old food. Great meals and a clean fridge.  Win-Win.
So, sorry to… The Chimes, Highland Coffees, Brew Ha Ha, Amazon.com, Calandro's…… we'll be sending less money your way for a while.